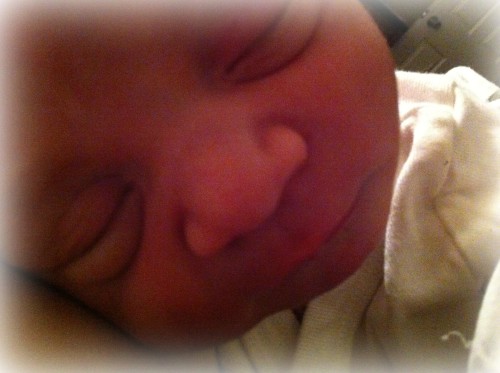 My first son, Zion, was an average hospital birth. I had a midwife who worked at the hospital, I was in labor for 18 hours and I had an epidural. I came away from that experience feeling overjoyed to have my son in my arms, but also disappointed for a lot of reasons. I felt that the staff at the hospital really just treated me like I didn't matter and like I did not know the best things for my child. I felt bullied into making a lot of decisions such as taking the epidural and other drugs. I was left alone in the triage room to labor and even though I requested that my husband be allowed in, he was not. The nurses and midwives argued in my room in the first moments of my son's life because the nurses wanted to take him to suction him and they wanted to cut his cord, and both of those things were unnecessary. The midwife I had was the midwife on call. She did her best to fight for me in an atmosphere that really did not welcome anything other than sticking to hospital protocol. I was also bullied into getting a vaccine I did not want at the time, my son was taken away from me to be "checked out" more than once when he was completely healthy, and I was pressured into allowing the nurses to give him a bottle to "make sure he was latching correctly". My husband got in trouble for carrying our son out into the hallway instead of pushing him in his cold plastic box and I could not get the nurses to bring me anything I needed after I was discharged but still waiting for my son's discharge so we could leave. My husband and I could not wait to get out of the hospital. From the hospital tour, the impression was given that this was a wonderful birth suite with all of the comforts of home. It seemed almost from the moment we got there, we could not wait to leave so we could go home and get some sleep and enjoy our baby. So needless to say, after that experience we decided to have our next child out of the hospital.
When I became pregnant in October of 2012, we were both excited and nervous. A year earlier I had miscarried and so we were afraid of losing another baby. I had interviewed a few midwives and decided to go with a birth center. I never really felt completely confident in my decision to have a birth center birth, however. I decided to keep looking for a midwife who I felt was the one for us. When I was about 12 weeks pregnant, I heard about Darlene. I went to her website and read her birth stories and immediately I felt like she could help me have the kind of birth we wanted to have. I emailed her and we set up a meeting. I felt comfortable with Darlene right away. I felt that she was easy to talk to and I felt that she really cared about me and my baby and I appreciated that she is constantly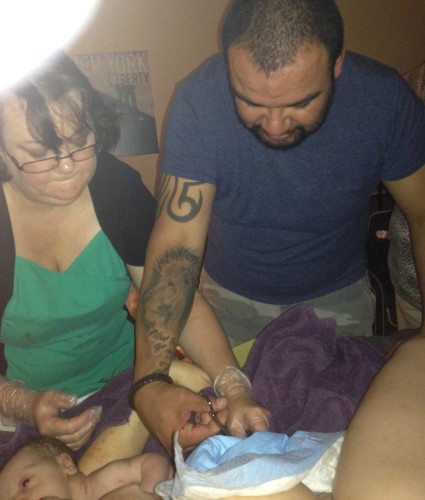 researching and learning new things. I continued to see Darlene and I did not dread my prenatal appointments like I had in the past. I never felt rushed or unimportant. Her office is so comfortable, I did not feel like I was at the doctor's office. I felt like I was going to visit a friend who cared about what I had to say and the questions I had. I also had morning sickness for quite a while that seemed pretty severe. Darlene was always available to me to help me through that. I could text her or email her anytime and she would immediately get back to me. Having that support through the hardest part of the pregnancy for me was very important.
Darlene told me that she thought I would have a fast, easy birth. I wanted to believe her, but I had doubts in my mind because my first labor was so hectic and long and painful up until I got the epidural. I didn't admit it to anyone, but I had a lot of doubts in myself that I would be able to do this with no pain medications. I read as many birth stories as I could to prepare myself. By the time I was in my last month, I was excited to go into labor and not afraid. I had also hired a doula because I thought my labor would be very long like it was the first time around so I was looking forward to having my baby at home with my doula, Nicole, and my midwife Darlene's help.
On July 1st, I went to my last prenatal appointment. I wanted to know if anything was happening because I had been having contractions for weeks, so I had Darlene check. I wasn't in labor, so she told me to go home and take Benadryl so I could get some sleep and if the contractions were not real labor then I should be able to sleep. When I left her office, she said she thought I would be having the baby soon – maybe in the next week.
I was excited but also in disbelief that I would soon be holding my baby. I went home and tried to sleep. I only slept for about an hour. My husband had gone to spend some time with his brother who was in town visiting so I was in my room with my 3 year old watching movies. Around 8:30 I started having regular contractions, but they were very short and not painful. This had happened several times before and they always had eventually stopped so I did not think a lot of it. At about 9:30 I turned some music on and my son was in bed. I realized that I was still having contractions but they were still very mild and short. They were about 6 minutes apart, but I was still not sure if this was the real thing. I sent my husband a text message to tell him what was happening. I told him not to come home because I was thinking I may just fall asleep. I didn't want him to come home for nothing. At about 10:30 I told my husband that I was still having contractions. I still didn't care that he wasn't there. I was just enjoying the time listening to my music, and just reflecting on my pregnancy and how grateful I was that I was able to have a full term, healthy pregnancy. I was thinking about how I couldn't wait to meet my baby and how it would be for Zion to meet his brother for the first time. I was so relaxed and calm. Contractions were getting slightly stronger but still very easy and only about 45 seconds long and 6 minutes apart. Considering I had 18 hours of labor the first time, I thought I had hours and hours to go – if this was even real labor! I thought maybe I would have a baby sometime the next morning.
At 11:00 my husband came home. We started to watch a movie in bed and we got about 5 minutes in when I had a "real" contraction. I knew then that it was really labor, but still not painful. I think that my first labor was so painful because I was terrified and intimidated at the hospital. I was also uncomfortable in the hospital on the hard stretcher they had me laying on and it really made me think that labor was going to be excruciating. Because I could manage these contractions, I felt that this had to be very early labor. I sent a text to Darlene and my doula, Nicole, to let them know that I might be in labor but it was still very early so I would call the when I thought I would need them. I think this text was sent sometime around 11:30. at 11:45 I got into the bathtub and immediately, labor went into high gear. My husband called my doula at 12:00 and she notified Darlene and they were on their way.
At about 12, the contractions very quickly got close together, long and strong. At 12:45 I was standing beside my bed and my water broke. At that time, I felt my son's head move down into my pelvis. It was very strange to feel every sensation that I had not felt the last time because I had an epidural. As soon as my water broke, I felt that I had to push. I was in disbelief at this point because I thought, "labor just started! It can not be time to push already!". Darlene was on her way, but still had not arrived. I had climbed onto the bed on my hands and knees and my husband had Darlene on speakerphone right next to the bed as she was driving as fast as she could to get to my house! She was talking my husband through what to do if the baby came before she got there. She was trying to talk me through my  contractions and keep me calm. At 1:22, Darlene ran in the door and at 1:24 on July 2nd, Ezekiel Jude was born. The marathon birth I was expecting was more like a sprint!
As soon as he was born, Darlene helped lay him down right next to me in bed. I was talking and he was wide awake, moving his head around to try to see my face. We just looked at each other and got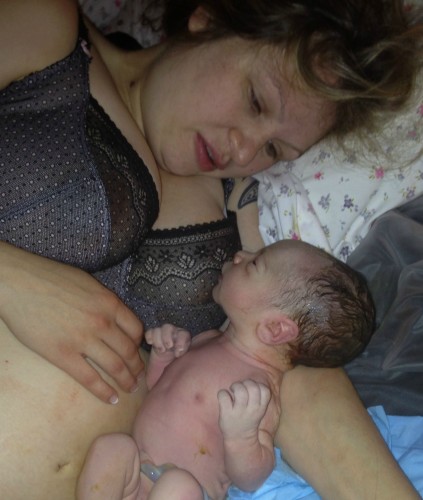 to know one another. It was the most amazing, peaceful experience. I am so grateful for those first moments when we fell in love with each other. After quite a while, my husband cut the umbilical cord and held our son. Darlene checked me out. I didn't need any stitches. I could not believe how good I felt. I remember with my first birth feeling like I had been hit by a truck! I was exhausted and I felt the effects of being drugged up. I also required stitches and a catheter and I took a very long time to feel better.  Zeke's birth was so gentle and I was feeling great right away. I was not expecting to feel so good. In fact, within 5 minutes of him being born, I turned to my husband and said, "That was SO easy! Let's do it again!!"
After a while, we weighed Zeke and he was 6lb 12oz. His newborn checkup was done on the bed beside me. Darlene and my doula stayed for another couple of hours and then they tucked us into bed and left. There are no words to describe what it felt like to be in my own bed, in our own home looking at my precious new baby and realizing that we just did that! My husband and I worked together to bring our sweet baby into this world.
The next day, Darlene came back to check on us. It was so nice to not have to go anywhere. I didn't have to take my baby to the pediatrician or leave the house to get lab work like I did right away when my older son was born.  It was so nice to relax and enjoy our new family member. If I had to do this all over again, I would do everything the same way. I can't thank Darlene enough for all she has done for us and I can't even describe how wonderful it was to have a home birth. Our sweet baby is such a joy and I am so glad he was able to enter the world in such a beautiful and peaceful way.
-Gina Jimenez-