By Candice Reyna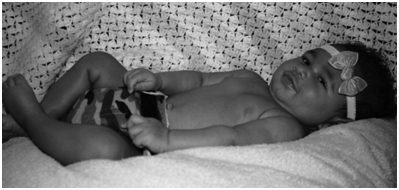 In these modern times it seems that we are always trying to find a faster, more convenient way to do everything. This includes caring for our children. When my Mother was a growing up in the 1950's it was common-place for every baby to wear cloth diapers with safety pins to hold them closed. Now in the twenty-first century if you tell your friends and family that you are choosing to use cloth diapers instead of the "more convenient" disposables they might try to convince you that you are just going to be giving yourself more work than you need to. After all, why go through all of the trouble of laundering cloth diapers, inserts, and diaper covers (not to mention cloth wipes) when you can simply fold up the nasty little mess and throw it in the waste basket?  There are several good reasons why cloth diapers are a better choice, even in this modern day, for your baby, the Earth, and your wallet!
In the 1950's, when disposable diapers were first introduced, they were not as commercial as they are today. There were some design issues that were said to cause bones in babies to develop poorly. Most mothers still opted to use the traditional cloth diapers and either washed frequently or used a diaper service. Many things have changed in both cloth diapers and disposable diapers since then.
According to The Journal of Pediatrics, just over half of babies one-year-old and younger that are diapered with disposables have diaper rash (which comes from the skin being wet and the forming of bacteria). Disposable diapers are made so that baby can soil them more than once without leaking. While that can be seen as more convenient for parents, there have been several developments with cloth diapers that make them less likely to leak as well.
Disposable diapers are made of synthetic material like: polyethylene film or a nonwoven and film composite which prevents wetness and soil transfer, an inner absorbent layer of a mixture of air-laid paper and superabsorbent polymers for wetness, and a layer nearest the skin of nonwoven material with a distribution layer directly beneath which transfers wetness to the absorbent layer. This is what allows baby to soil them several times while keeping moisture away from baby's skin.
From Kimberly Clark's (Huggies) 2005 Annual Report:
"Superabsorbent materials are important components in disposable diapers, training and youth pants and incontinence care products. Polypropylene and other synthetics and chemicals are the primary raw materials for manufacturing nonwoven fabrics, which are used in disposable diapers, training and youth pants, wet wipes, feminine pads, incontinence and health care products, and away-from-home wipers."
Another issue frequently brought up regarding disposable diapers is dioxin exposure. A Mothering Magazine article, entitled "The Joy of Cloth Diapers" states:
"Dioxin, which in various forms has been shown to cause cancer, birth defects, liver damage, and skin diseases, is a by-product of the paper-bleaching process used in manufacturing disposable diapers, and trace quantities may exist in the diapers themselves."
                The cloth diapers of today's market are much improved over past diapers, which sometimes were thin and not very effective. They are made of mostly nature material such as cotton, fleece, wool, bamboo, flannel and hemp. Manmade materials such as an internal absorbent layer of microfiber toweling or an external waterproof layer of polyurethane laminate (PUL) may be used to prevent leakage. Polyester fleece and faux suede are often used inside cloth diapers to help keep baby dry because of the non-absorbent properties of those synthetic fibers. Because of this construction, today's cloth diapers are nearly as convenient as disposables. They can even be fastened without pins as most now have snaps or Velcro. There are even flushable liners for parents who travel and don't want to have to deal with a messy diaper.
Many parents may feel that it is inconvenient to have to wash their baby's diapers. In truth it is not much more trouble than washing a load of laundry. There are diaper pails available to store soiled diapers (just as with disposables) in between washes, and the only real extra step is to flush any waste from the diaper down the toilet and rinse to avoid staining.
Cloth diapers are also more Eco-friendly. According to The Women's Environmental Network in Europe, one disposable diaper may take up to 500 years to decompose and are the third most common consumer product in landfills today. One baby in disposable diapers can contribute up to one ton of waste to your local landfill.
A report published by the Environmental Protection Agency gives an interesting view of the waste situation in the United States ten years ago. It says, "An estimated 3.1 million tons of disposable diapers were generated in 1997, or 1.4 percent of total MSW (Municipal Solid Waste) generation. (This tonnage includes an adjustment for the urine and feces contained within the discarded diapers.) The materials portion of the diapers includes wood pulp, plastics (including the super-absorbent materials now present in most diapers), and tissue paper. No significant recycling or composting of disposable diapers was identified in 1997." Until disposable diapers are made of bio-degradable materials they are not the right choice for our planet.
The average cost of disposable diapers is around $60 a month. That's $720 per year! In fact, according to a recent report about Disposable Diapers from Consumer Reports, you can expect to spend $1,500 to $2,000 or more on disposable diapers by the time your baby is out of them. By using cloth diapers, you save money with each diaper change. The money saved on diapers can support another area of your family's finances or could go towards helping someone else less fortunate.
A new born baby can easily go through 12 cloth diapers in a day (an older baby will go through less) and the prices for cloth diapers vary depending on the company you get them from and if you want things like designs on them. There are also a few choices regarding the type of cloth diaper you use. You can choose to use the diaper, liner, cover system (which is what my Mother used), but there are now several more convenient choices. For example, you can purchase the "all in one" cloth diaper which comes in different sizes just like disposable diapers and is just one piece instead of three.
I like the newer "one size" cloth diapers. They are also an "all in one" so no liner or cover is required, but they have snaps that allow them to adjust from small, to medium, to large (7lbs-35+lbs). These seem to be the most cost effective because when your baby grows you are not required to purchase diapers of a larger size. You can purchase one size diapers from clothdiapers.com for $74.98 for a 3 pack. If you need 15 diapers for your newborn that is $374.90 for diapers that will grow with your baby and that you can use over and over again. Cottonbabies.com also offers a one size diaper from bumGenius for $17.95 each. That would cost $269.25 for 15 adjustable diapers (bumGenius is also available in many retail locations, check their website bumgenius.com).
Even in this more modern world cloth diapers can be a convenient choice for you and your baby. They are not only better for baby's health, but they are better for the Earth and more economical than disposable diapers.